VisualBrainCore
From UABgrid Documentation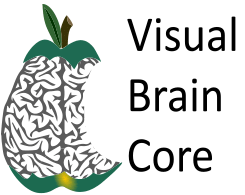 Visual Brain Core Mission
Our mission is to help produce high quality, cutting edge research examining the visual brain. To achieve this, we will help investigators overcome some common barriers to performing high quality vision research, and provide forums to discuss new ideas and research techniques.
The 5 aims of the Visual Brain Core
Information For Visual Brain Core
For Use in Grant Proposals:
Visual Brain Core Personnel and Office Hours
Demet Gurler, PhD: Consultation on experimental design and data analysis issues.

Office Hours: Tuesday, 2:00 -5:00 pm, Thursday, 9:00 am-12:00 pm, Civitan International Research Center, Room 235C
We are hiring a Computer Systems Specialist, in conjunction with Research computing.
Visual Brain Core Seminar Series
Every first Friday, 3:30 PM in CIRC 120. We will discuss new ideas and techniques in brain imaging.
List of speakers in Visual Brain Core Seminar Series
Nov 21, 2014: "White Matter in the Older Brain is More Plastic than in the Younger Brain" Speaker: Yuka Sasaki, PhD, Department of Cognitive, Linguistic and Psychological Sciences, Brown University.
Jan 9, 2014 : "UAB Research Computing Resources for Neuroimaging Research" Speakers: John-Paul Robinson, Mike Hanby, Thomas Anthony
Feb 6, 2015: "High Gradient Diffusion MRI from the Human Connectome Project" Speaker: Koene Van Dijk, PhD, Department of Radiology, Harvard Medical School.
March 6, 2015: "How do we measure functional connectivity? An interactive discussion of functional connectivity methods" Speaker: Kristina Visscher, PhD, University of Alabama at Birmingham.
April 3, 2015: "Generalized Psychophysical Interactions (gPPI): What are they and What they can tell us" Speaker: Donald McLaren, PhD, Department of Neurology, Harvard Medical School.
May 1, 2015: TBA
Other information
Info about specific processing pipelines implemented on Cheaha
Links to info about certain most used protocols and software downloads and mailing lists for different software.
Neuroimaging at UAB
UAB Neuroimaging Facilities
Civitan Functional Neuroimaging Laboratory
Director: Mark Bolding, PhD
e-mail: mbolding@uab.edu
The Civitan Functional Neuroimaging Laboratory (CFNL) is located on the first floor of the Civitan International Research Center at the University of Alabama at Birmingham. It houses a research dedicated Siemens Allegra 3T head-only scanner for structural and functional brain imaging, an MRI preparation room for pre- and post-scan patient monitoring, and a fully-equipped experimental suite for behavioral recording.
Single and 4 channel TR head coils are available for use with the Siemens Allegra 3T scanner. Standard Siemens pulse sequences are used in general although some have been modified for research purposes. Triggering signals are available for investigators to synchronize stimulus presentation and behavioral monitoring with scans.
The CFNL is equipped with an IFIS-SA system for audio/visual stimulation. Visual stimulus presentation can be delivered using an advanced fiber optic system (IFIS-SA) or using back-projection with an LCD projector and a screen at the end of the patient table.
Auditory stimuli are presented using a pneumatic headphone system (IFIS-SA). Behavioral measurement can be accomplished using IFIS-SA button response units or fORP joystick and button boxes. Cardiac and respiratory functions can be monitored using an Invivo remote physiological monitoring system. In addition, Eyelink equipment and software is available for eyetracking during scanning.
Scans available: Functional (BOLD) MRI, Diffusion Tensor Imaging, Magnetic Resonance Spectroscopy, as well as other traditional T1 and T2-weighted structural scans.
Equipment 3T Siemens Allegra MRI scanner
Center Affiliation Civitan International Research Center
Serving - UAB Internal and External
Small Animal Imaging Shared Facility
Equipment for collecting behavioral data during Neuroimaging
Neuroimaging and Systems Neuroscience Labs at UAB
Cluster Computing Environment at UAB: Cheaha
Cheaha_GettingStarted - information on getting an account and learning about how to use the cluster
Cheaha - background information on the cluster useful for grants and publications
UAB-Auburn University Collaboration for Neuroimaging
Auburn University MRI Research Center Siemens Magnetom 7T
UAB & Auburn Neuroimaging Journal Club
Neuroimaging journal Club. Every other Friday at noon, second floor CIRC. Contact Adrienne Lahti to get on the mailing list alahti@uab.edu
UAB & Auburn Neuroimaging Retreat
How To...
UAB Neuroimaging Tools and How-To's (requires blazer id)
Behavioral data analysis techniques