VisualBrainCore: Difference between revisions
Jump to navigation
Jump to search
---
Revision as of 22:34, 3 February 2016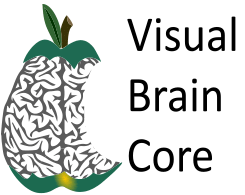 Visual Brain Core Mission
Our mission is to help produce high quality, cutting edge research examining the visual brain. To achieve this, we will help investigators overcome some common barriers to performing high quality vision research, and provide forums to discuss new ideas and research techniques.
The 5 aims of the Visual Brain Core
Information For Visual Brain Core
Visual Brain Core Personnel and Office Hours
Demet Gurler, PhD: Consultation on experimental design and data analysis issues.
Ravi Tripathi, MS: Computer Systems Specialist. Consultation on high performance computing and algorithm issues.

Office Hours: Tuesday, 2:00 -5:00 pm, Thursday, 9:00 am-12:00 pm, Civitan International Research Center, Room 235C
Visual Brain Core Seminar Series
Every first Friday, 3:30 PM in CIRC 120. We will discuss new ideas and techniques in brain imaging.
List of speakers in Visual Brain Core Seminar Series
For Use in Grant Proposals:
The Visual Brain Core must be eventually supported by users. For this reason, we ask that you include use of the Visual Brain Core resources in the budget of your upcoming grants. Quotations from previous proposals are provided in this link.
VBC Mailing List:
To subscribe to the VBC mailing list, click here (and send the email without any changes) or send an email to sympa@vo.uabgrid.uab.edu with the following text in the body of the email subscribe vbc
Neuroimaging at UAB
UAB Neuroimaging Facilities
Civitan Functional Neuroimaging Laboratory
Small Animal Imaging Shared Facility
Equipment for collecting behavioral data during Neuroimaging
Neuroimaging and Systems Neuroscience Labs at UAB
(UAB folks, please let us know if your lab should be included on this list!)
Cluster Computing Environment at UAB: Cheaha
Cheaha_GettingStarted - information on getting an account and learning about how to use the cluster
Cheaha - background information on the cluster useful for grants and publications
UAB-Auburn University Collaboration for Neuroimaging
Auburn University MRI Research Center Siemens Magnetom 7T
UAB & Auburn Neuroimaging Journal Club
Neuroimaging journal Club. Every other Friday at noon, second floor CIRC. Contact Adrienne Lahti to get on the mailing list alahti at uab.edu
UAB & Auburn Neuroimaging Retreat
How To...
UAB Neuroimaging Tools and How-To's (requires blazer id)
Behavioral data analysis techniques
[blah]