Joseph B. George
From UABgrid Documentation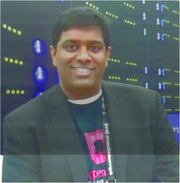 Joseph B George
Joseph B George is the Sr. Director of the Cloud and Big Data Solutions Team at Dell, the team is responsible for developing innovative solutions such as the Dell OpenStack-Powered Cloud Solution, the Dell Apache Hadoop Solution, the Dell Crowbar software framework, and key partnership solutions. Joseph also sits on the OpenStack Foundation Board of Directors.
Prior to coming to Dell, Joseph held key strategy, product management, and technical roles at companies like HP, BMC Software, and Halliburton. Covering areas such as enterprise management software, virtual desktops infrastructure (VDI), scale out computing, and transaction management, Joseph has spent over 15 years in the areas of enterprise software, virtualization, and cloud technology.
Joseph holds a bachelor's degree in electrical and computer engineering, as well as a master's in business administration (MBA), both from the University of Houston. He's a tried and true Texan, and currently resides in Austin with his wife and two children.
You can catch Joseph's thoughts and opinions regularly at the JBGeorge Tech Blog (www.jbgeorge.net) and he can often be found talking tech on Twitter (@jbgeorge).